Loooooong post, lotsa pics!
Ok, I promised I'd write sooner, but I got sucked into the two-week training for my new job and had to rewind for a few days after that.
I'm going to work for the emergency number 112, the European version of 911 and my first shift is this Wednesday at 6.45.
That means getting up before 6. Yes. That's the Queen of Slack getting up before s.i.x.
Now that you all grasped the severity of the situation - except for Dave, who needs to stop smirking ASAP- I'll get on with the knitting content.
I have to admit that I actually started two new projects in the last few weeks, though socks technically don't count. And these are so small, they surely can be ignored. ;)
They are for Dave's 1 yr old nephew, and I'm using the yarn that Dave picked for his own pair. There ought to be enough left; it's a huge ball of
Opal Papagei
.
To avoid the dreaded Second Sock Syndrome, I'm knitting the socks simultaneously, which is why they're no both ready for picking up stitches along the gusset.
Since I was getting a little tired of the Dutch heel, I wanted to try a short row heel on these puppies, but couldn't find a description I could actually follow. Quite frustrating. This is definitely something I need to see demonstrated by a fellow knitter. On the other hand, a Dutch heel is very appropriate since, well, I'm Dutch.
And because I just spent a few great days in Amsterdam with the little boy's dad: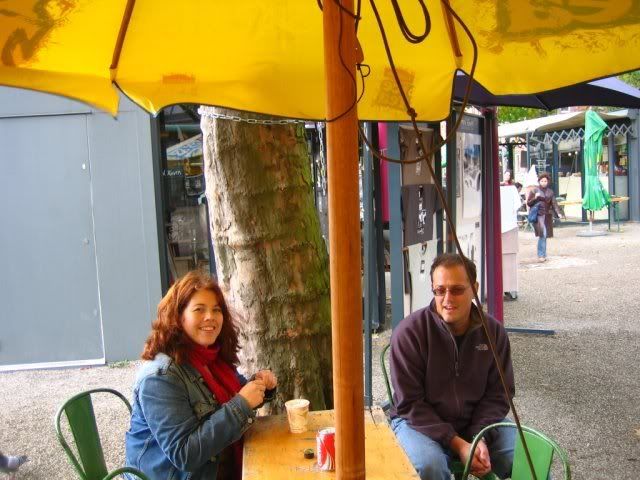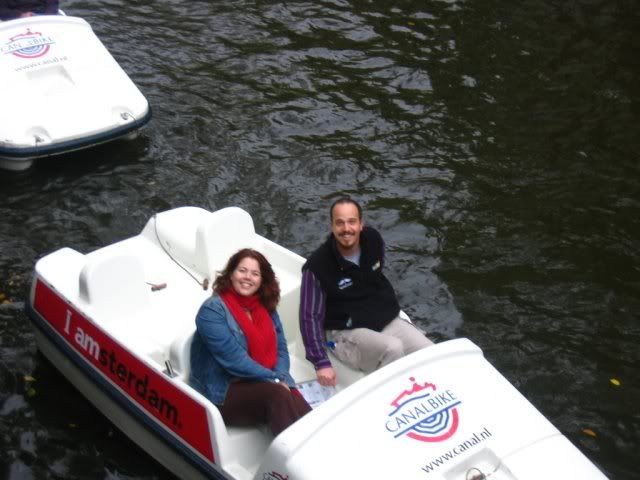 Yep, not only did the Baboo visit, but we were joined by his brother and two of his friends from college. We had an absolute blast, visiting the Van Gogh Museum and taking a wild Canal Bike tour through the city centre.
There was a carnival at Dam Square and we went on the fucking freakazoid Katapult Bungee thing twice. (Dave's got the pic that was taken; he'll scan it soon.)
I was a tourist, baby, which was very nice for a change, 'cause it did kinda feel like I was on holiday.
On the final night, Dave and I booked our own little room all the way in the top of the cosy Crown Hotel, right in the middle of the Red Light District. It made me realize that I'd really like to take him on a tour of Europe someday. Maybe all the way to Russia, get him over his deep-rooted, American fear of Russians.
(Btw, I never in my life thought I'd once utter the phrase: "Honey, would you please refrain from raising your eyebrows at the hookers, thank you." Hehe, surreal surreal, Amsterdam is an amusement park.)
But I digress; I mentioned
two
new projects.
The second is a lacy scarf in a brown mohairy type yarn that my fellow SnBers refer to as Old Lady's Hair. And they are quite right too, but I like to think I can make something pretty out of it by adding the shiny bright blue beads at intervals along the length of the scarf.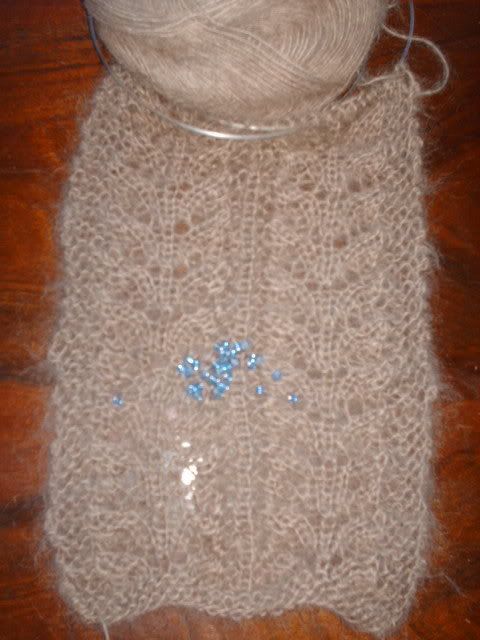 It's knit from a ball rejected by my newly assimilated knitting friend Niek in a recent stash enhancing eBay experience where she obtained a box with 32 –I kid you not!- balls of mohair in a vibrant royal blue.
The pattern I used is a my own little adaptation on a Baby Fern dishcloth pattern that I found on the Interwebs:
http://www.jimsyldesign.com/~dishbout/kpatterns/babyfernstitch.html
To avoid asymmetry, yes neurotic moi, I adjusted the pattern slightly as follows:
Instead of a multiple of 12 plus 6, cast on a multiple of 12 plus 3.
Then when you're done with the last pattern repeat in either row 2,4 or 6, you leave out the p1, k1, p1 and go straight to the k3. Voila!
(Symmetry gooood, eh Arja?)
So what else is new? The weather here is ridiculously springy; it's almost November and I'm walking around in a skirt and bare legs. Baby lambs are being born; I think Mother Nature is a tad confused.
Oh, forgot to mention I put tassels on Dave's Dr Who scarf: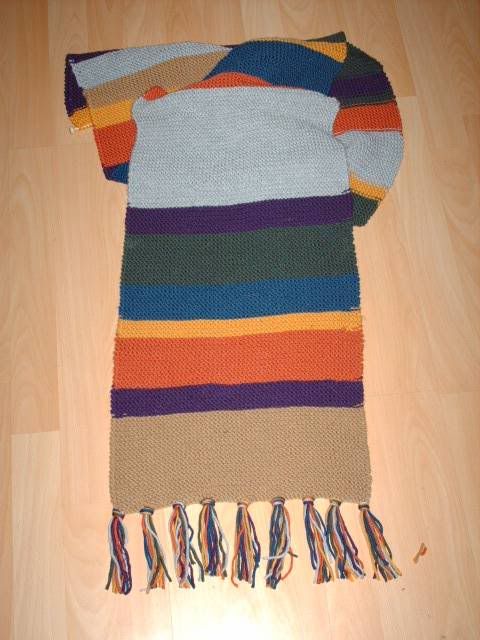 I'll leave you with a cute picture of two of my three favorite men, posing with the kittens of the Crown Hotel and one of just the two of us: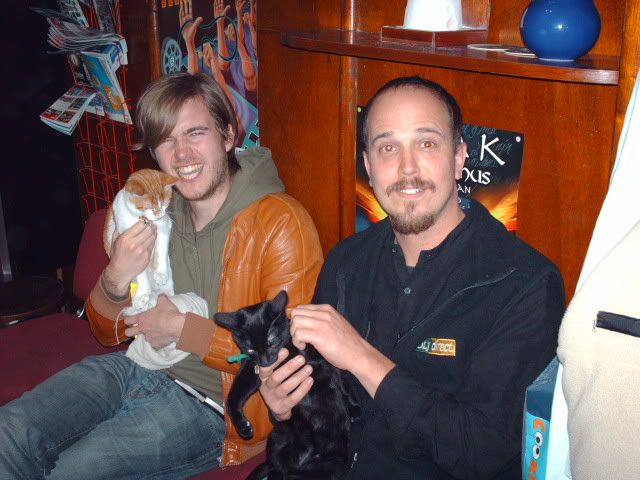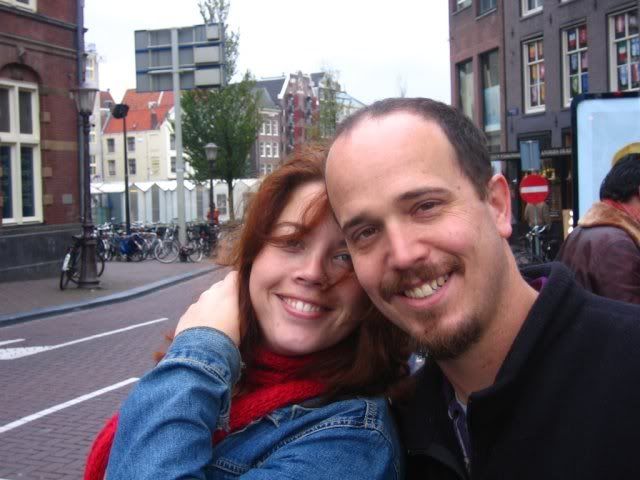 Awwwwwww!