Lotsa Secret Pal Lovin'!
Oh my, not one but TWO packages from the other side of the world! Man, this makes up for coming home from work through the crappy cold weather we've been having here lately.
The first loot was from the amazing Deb the Yarner: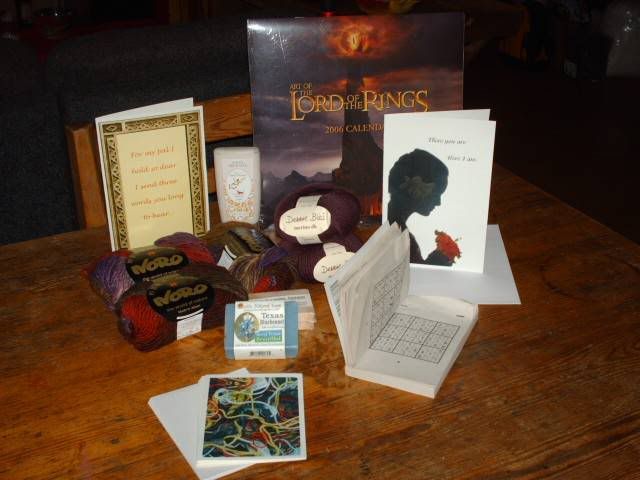 Yummy organic soaps from Texas and The Alchemic Dragon
A wicked LOTR 2006 Calandar, great for writing down work days and countdowns to seeing The Dude.
THREE balls of Noro Kureyon. Woman, whatever gave you the idea that the other balls weren't my color? Anything with purple is brilliant by me.
Two yummy purple balls of Debbie Bliss merino
A new set of homemade cards with a gorgeous yarn image.
A beautiful homemade card that can be mailed straight to the Honey. (You know me so well!)
A Sudoku booklet! It took me two days to finish the first damn puzzle. The next three were done in a couple hours. Thanks for getting me a new addiction! Like I needed a new hobby... ;)
Deb, you have been the most kind and genereous BONUS secret pal a girl could wish for, seriously. Thanks so much for the jokes, the pick me ups, the ecards, the comments on both my blogs and for going completely crazy on the packages. You ROCK!
Now see what arrived three days ago: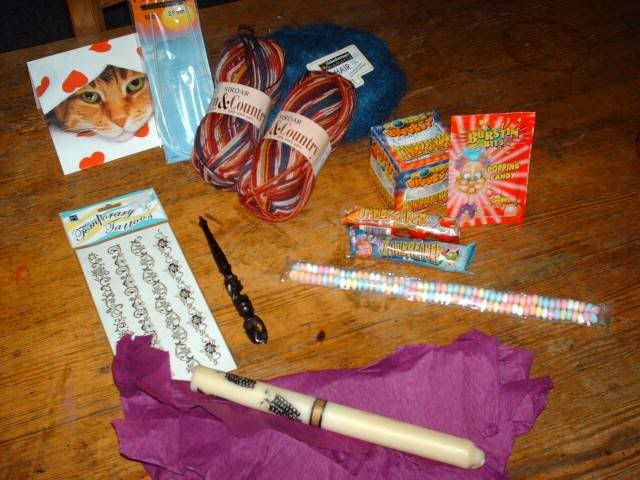 My secret Holiday Pal was Sharon aka Qessentia and man, did she bring me into the holiday spirit. Look what she sent me all the way from South Africa:
A totally cute card with a kitty under a duvet. Awwwww!
Lots and LOTS of cute CANDY!! I got Jawbreakers and Burstin Bits Popping candy! Weeeeeeee!!! That big jawbreaker is killing me.
A set of temporary tattoos, a ball of beautiful blue Schachenmayer mohair
Two skeins of Sirdar Town & Country Volcano sock yarn, love the colors!
A cute rose on an elastic band for in my hair (which is right where it was when I took this picture. D'oh!)
An awesome pen carved out of black wood, and a handmade, painted candle! WOW!
Thank you so much, Sharon! Also for the wonderful ecards you sent me this past month; you've been a superfun Holiday SP.
Tomorrow night, I'm going to partake in an intercontinental socalled
"Yankee Swap"
with 12 fellow Knittyheads. I'm number 9 to select a gift. It should be crazy! It will be midnight for me by the time it starts, but this looked like too much fun to pass up.
In knitting news: I finished myself a Forsa mitten from the second Cornelia Tuttle Hamilton Noro Book. I like it so much that Second Mitten Syndrome should be averted. I cast on for the Forsa scarf first though, and I have to say, the Kureyon 134 knits up like a dream.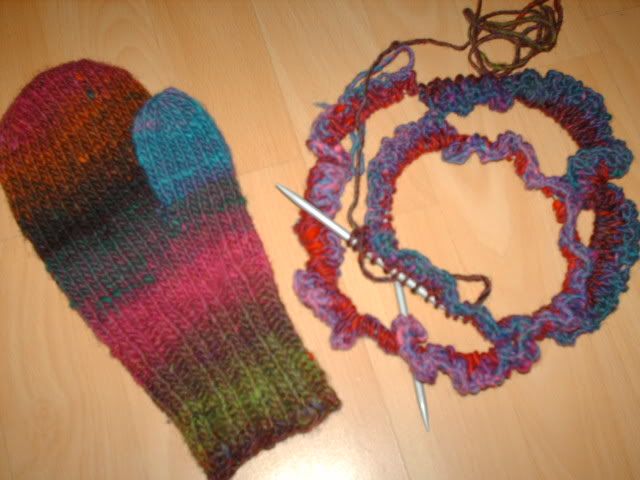 Where did I find the time to knit, you say? Well........I kinda snuck it into work anyway. As long as I'm not trained enough to take on all the phonecalls, my colleagues are ok with me knitting away the long evening hours, when there's not much else to do between six and eleven but sit and wait. And now knit! Hehe.
(By the way, some smartassy cop saw me knitting and smugly asked:
"So what are ya knittin'? A dish cloth?", to which I solemly replied: "Nah, a bulletproof vest." And that was the end of that.)
Now for all you Dutchies: Happy Sinterklaas! I have the honor of showering my Senegalese brother in law with presents this year. It should be hilarious; I'll tell you how it went.
P.s. Lost 8 lbs now. Yeah, call me vain, but it's my bloody blog and I'll show off if I want to. :)