"When in doubt, add tomatoes"
Look what I just came across in the
new September Issue of MagKnits
: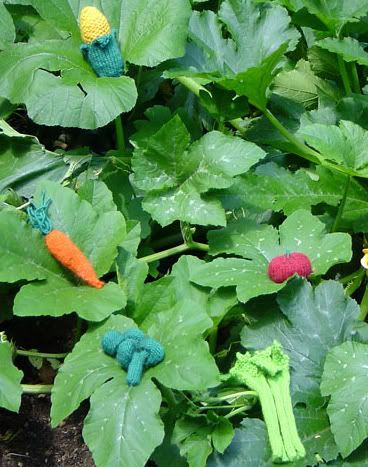 I especially love how the celery came out; the stockinette twists exactly like the real thing! Yep, definite cute alert.
My honey, who's been growing ridiculous amounts of zucchini, tomatoes and anything else you might find in a veggie garden, will totally be receiving one of these items. Or more.
Damn that Knitter's ADD!
Check out the other patterns in there; I also love the mittens and the ponytail hat! The multidirectional scarf is gorgeous too, but silk? Hmmm.
Ahh, while we're on the subject of no-money-ness: I GOT A JOB!
Waiting for the results on my background check, but if I pass, I'll let you in on the specifics. (Gee, I've never been so glad about not having a driver's license! Or never having robbed a bank for that matter…)
Yey for more yarn. And lingerie. And clothes that aren't from the previous century!
(Yes, I am that superficial. Don't act so surprised. ;)
As for the camera: it was a belated B-day present from my parents, sister, brother and bro's girly. It has 5.0MP and it has me on top of the world.
Pics of my no-more-redheadedness are soon to follow!
P.s. Poor Pettie, I hope you'll find a camera soon. Can't offer you any advice 'cause I gave up on technology long before the iPod came along.
Hang in there in that room, make it all yours and try not to kid yourself about the situation you're in. (I'm sorry if that sounds harsh. It's a Dutch thing.)
It's gonna be really crazy when you two are having a great time as usual, like watching a good film or your favourite TV show, until you realize… Well, you know.
Hope you liked the card and that the cable needle is doing its job on your beautiful Hiking Scarf!
((((((Hug for Pettie))))))