Officer, I'd like to report an FO
The daughter of friends of mine got the cutest little rainbow hat that needed a matching scarf, so I spent a few hours knitting one up that hopefully did just that.
Of course I made it in stockinette and of course it curled up and of course I freaked out. But then I decided to fold it in half and sew it up, leaving a little gap to pull the other end through, and voila:
Such a cutie, and that poor little finger...
I spent Friday and Saturday doing what felt like a marathon Stitch 'n Bitch session at the
Handwerkbeurs
in the south of the country. We were there to promote both the Dutch translation of Debbie Stoller's first book, and recruiting new souls for our devilish groups across the country. (For now, Amsterdam and Utrecht seem the most active, but we got quite a list of names for one to start around Tilburg.)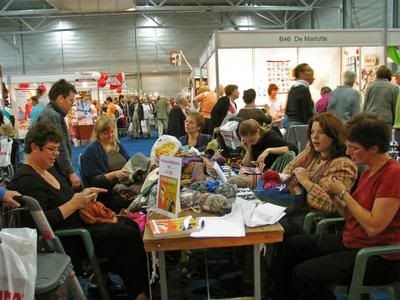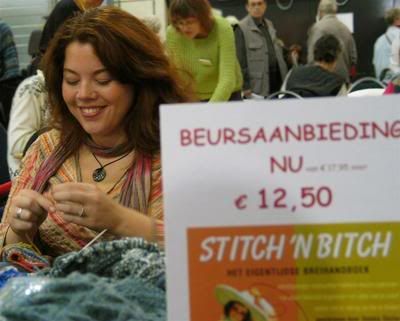 That's Gini, Berthi, Carla, Marion, Priscilla, moi, looking like I just spotted Bob Ross, and Josée in the group pic, and moi with the book in the second. Can you tell we were having a good time?
(Photos courtesy of Berthi from
berthi.web-log.nl
who interviewed us for her magazine
Handwerken zonder Grenzen
.)
Dutch Internet yarn store
Wolhalla
had a nice booth there too and it was fun to chat with the owners. I hope they weren't too turned off by the fact I needed to fondle their sweet collection of Noro Kureyon and Silk Garden over and over again.
For those of you who know of my dismal financial situation, drooling over all that Noro without being able to take any of it home to pet and take care of and call George, was pretty damn sad.
But then I got home, and HOLY MOTHER OF YARN, there was a box waiting for me. From my wonderful SP! Guess what was in it! Guess!!!
It was
Noro
, baby, and
five big balls
of it in
colorway 139
. It had a very sweet card that said it was destined to become a Booga Bag, or anything else I'd like. Hm, if you don't mind, dear SP, I'll think about for a few more weeks. I think I'd like a new hat with matching mittens.
THANK YOU, Miss Pal, YOU ROCK!!!
Wow. And such an exciting week ahead. My new job at the Police's emergency number starts in 9 hours and Sweet Caveman will be here in about 85.
Wish me luck! I'm off to catch some Zzzzzzzzzzz...
P.s. Yarn snobs rejoice: I'm returning the acrylics. It squeeks. Huuuu....