Slowly progressing
For Arja:
[Raspy Belgian voice on] "During the week, she is a legal adviser for the Dutch Association of Home Owners..... But on the weekends, she becomes... The Laminatrix!!" [Raspy Belgian voice off]
Finally an update; sorry to have kept you waiting this long. When I come home at night, I usually rummage around the house for a few hours, that is, when I still have some life left in me, and during the weekends I'm in full DIY mode.
Also, my Internet connection is really wonky and somehow my computer's lost most of its memory -or so I've been told- so it currently rattles so loudly when it has to perform, you'd think it's protesting slave labor. I also seem to have lost my anti-virus program, so I have no idea who may be watching! ;) I just know that screens close randomly and several Internet pages can't be opened anymore or the whole damn thing shuts down. Lovely... But here goes anyway:
Still a wee bit of laminatin' to do, which I am going to tackle today; the hallway. Living room(s) all done, apart for the trim (not plinths eh, D.?)
I heard that the average floor doesn't get its trim before it's been at least 5 months. I've decided I'm so not going there; if only because that totally sounds like something I would do.
The room is starting to look livable, especially after I tackled the final rows of laminate last weekend. The bits around the pipes aren't nearly as nice as I'd like em, and some bits chipped here and there, but what can ya do? I know I won't notice it in my daily use anyway. I'm still a little overwhelmed by the size of the room though; I usually have no problems furnishing anything, but with a room as big as this my furniture looks like it belongs in a doll house. Yay luxury problems!
Everything else is running semi-smoothly except that I still don't have a fridge or oven. The oven I can work my way around, but when the weather gets milder, I may have to stop keeping things on my balcony..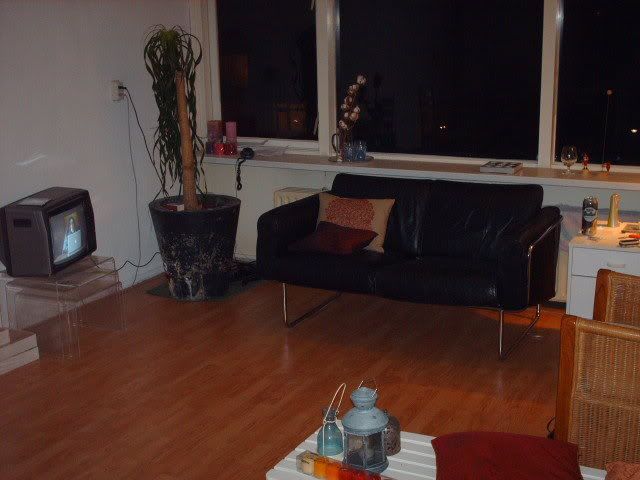 Contrary to what I thought I would, I haven't been doing much commute knitting. I don't really know why; the trip is about half an hour, so It's not like I couldn't get anything done... Could I really be too tired? On the way home I usually ride with colleagues and I'm busy joking around. I'll try to be better this week...
I did receive a lovely Sock Pal, mugwump, who is knitting some undoubtedly awesome socks for me as we speak. (Get well soon!) And I'm knitting up a pair of lovely pink Regia ones for her. And all is right in the world, because I'm a size 40/41 (10) and she's a 36 (6), so she won't have to wait till Christmas. Here's the yarn I'm using: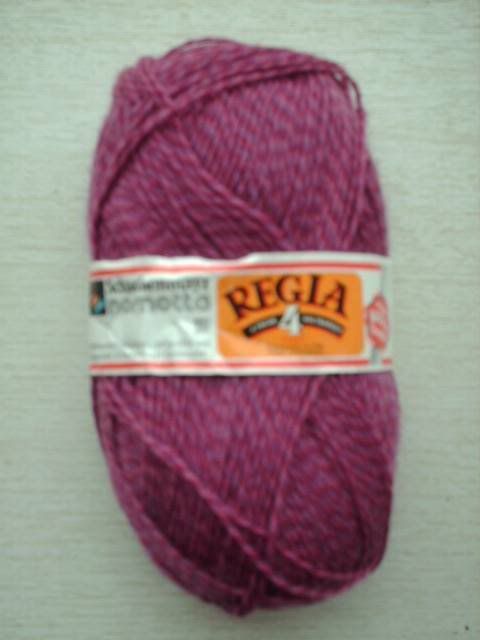 It looks like an old label, even though I only bought it at my LYS last week. The number is 2131, but I haven't found it anywhere on the web. The Monkey sock is on hold for now; must. finish.sockpal.socks. No pic of those, since they're supposed to be a surprise. But mainly I don't want anybody to know how much I still gotta do ;)
Then there's the Knitty Secret Pal program! I received one email from mine, but haven't heard much since. SP, where aaaare you? I totally need to get my butt on the Knittyboard more often.
My downstream SP is a lot of fun and so much like me! No problems finding anything for her. So I've been compiling bits and bobs here and there for that. I sent a birthday present to Massachusetts this week, so I doubt I'll be secret for much longer.
And finally, last Thursday I did an evening course on continental knitting, and I've been practising hard. The moves were awkward in the beginning, I wanted to toss the thing across the table and yell "I don't want your stinkin' incontinental knitting!" but they assured me that was perfectly normal. (Really?) And of course, my fingers are slowly getting used to it.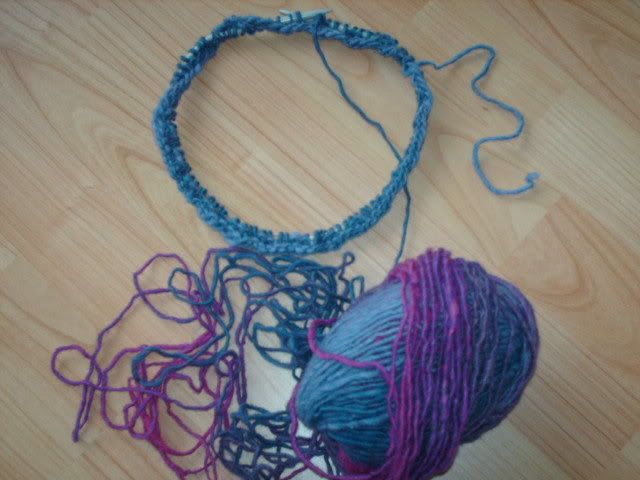 I started a practice Hat in Noro Kureyon, but as you can see, I have a long way to go. I'm mainly in it for mastering fair-isle, with two different colored threads and I see beautiful Norwegian mittens in my future. Thanks Ela!
P.s. Are you on MySpace? I'm a total ho, so yes I am.
Drop by sometime!