It's gettin' there!
First a thank you for all the well wishes for little Sofia! She is adorable and I can't wait to knit her a pair of baby socksies. (And maybe a little hat, and some toys, a blankie, etc etc etc.)
But NOT before I finish my own neglected little baby, the Ultimate Cardigan of Extreme Evil, which I knitted my ass off on yesterday!
I finished the second sleeve last week, and commenced to picking up the collar stitches, all 251 of them. Then endless short-rows that I may have fucked up a little, but hey, and last night Jeanne dropped by to make up for her lost Tuesday SnB night, and to help me set in my first sleeve. Who da Man: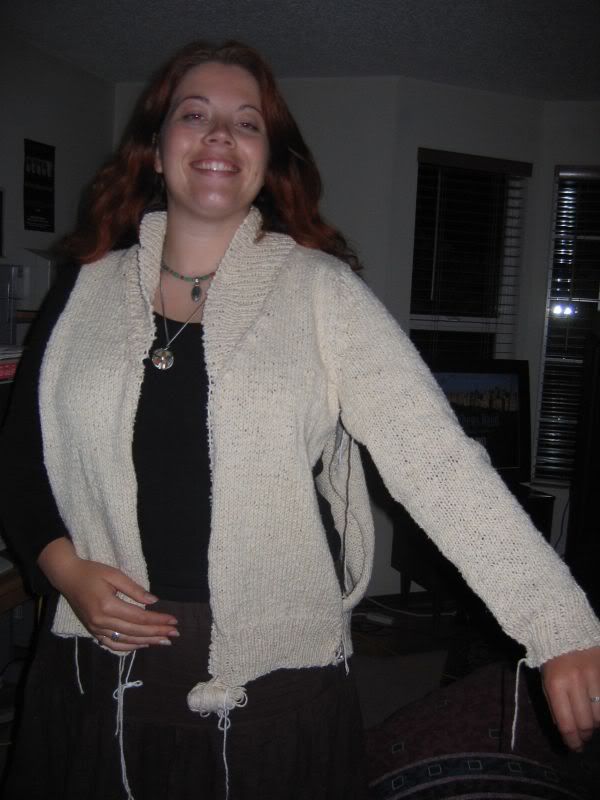 And once more, with passion: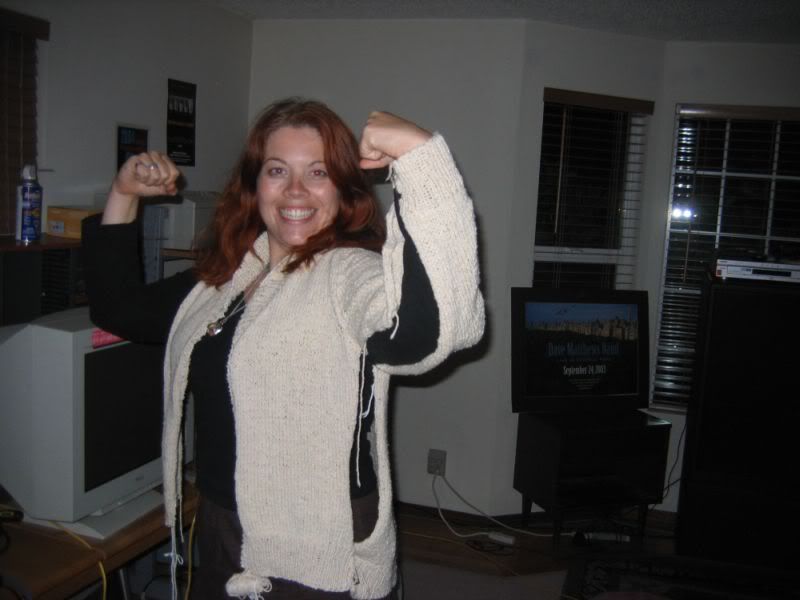 Sandra, you're right; I totally neglected the blog. I don't know. I suppose I went without a computer for several weeks, but that's not the whole story. I also know that I wasn't really motivated to write a whole lot about my life, because of the intensity of things going on. Let's just say it was hard enough just LIVING it.
As for now, things have quieted down a bit and I'm getting ready to move back home. (Home?)
Great news though: Dave
and I
just bought me a new ticket for August 7 - November 4. (Halleluyah!)
I unfortunately won't be here for the String Cheese Incident Extravaganza, but it was either that, or miss my third Halloween. So Halloween it is!
What will I be doing back home? Holy crap, it's gonna be a crazy month! The plan is to get rid of my wisdom teeth and my room, and gain a niece and a driver's license. It's going to fly by, I'm sure, and then I'm back to move into Dave's house for realsies. *Screams like a girl*
In the mean time, I'm schlepping along a suitcase full of Knitpicks goodies for my SnB'ers. Since they don't ship overseas, I figured I could give up some luggage space when I'm leaving most things here anyway.
Ooh, Dave just said it's gonna 31/88 degrees this Sunday!
Summer is here!
Next post will be solely dedicated to my SP's lovely first box of craziness.