Still all good!
Don't worry, no news is good news in MJ land.
Sorry for being such a lazy slackass blogger! I should really get over my "I have to write long, fancy blog posts
with
pictures"-neurosis and just feel free to also post little ittybitty notes every once in a while. See, that's what I get for being a procrastinating perfectionist eh? ;)
Well, as the title says, all is good in my little world. The weather has been amazing and I'm now officially halfway into my trip. Or our experiment, you pick! ;)
We celebrated our 2 yr meetiversary yesterday; two years since we met at the Drupa tradeshow in Dusseldorf. Wow, who'da thunk it?
So. The Seattle Knitting Expo was great! I didn't attend any courses but managed to drag Dave through the vendor booths. Lots of yummy stuff! He had a great time too: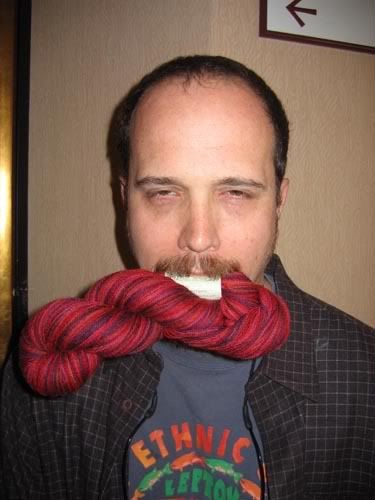 There were beautiful handblown glass needles and buttons, and a booth selling the much coveted qiviut, yarn made from the hair of a musk ox. Hmm, don't know if I'm that thrilled about the stuff. It's so...how do I say this....
brown
and expensive...
A definite highlight of the show to me was the antique sock knitting machine: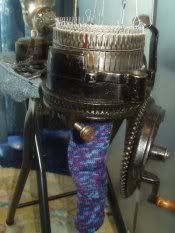 A nifty little iron thing with spikes that could crank out tubes faster than you could say 'Second Sock Syndrome'.
I tried to be all smartass and asked:"So how do you turn the heel?", and the lady pulled up some of the hooks on the rotator, yanked a couple times and voila: a fancy little short row heel.
Must.GetMe.One.OfThose! (They sell them on eBay for a couple hundred dollars....Hmmmmmm....)
The main reason I went was to have my first live peek of the Socks that Rock yarn from Blue Moon Fiber Arts. I love the stuff, and was drooling over the great patterns and colorways when the lady said:"If you buy the angora, I'll throw in another pattern for ya."
Dude, who can resist the power of the loud pink angora? Yes, I'm woman enough to say 'Not me'! It cost me a couple damn years of my life hearing the total price at the counter, but I think I can make up for that with some regularly scheduled private fondling sessions.
Behold the power of the mighty Angora: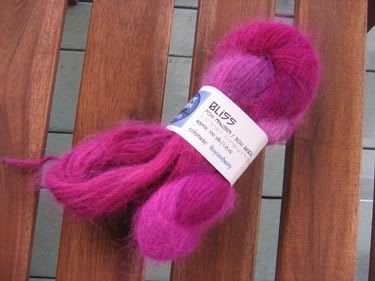 Also got this beautious sock yarn and a skein of lace-weight alpacaaaahhh: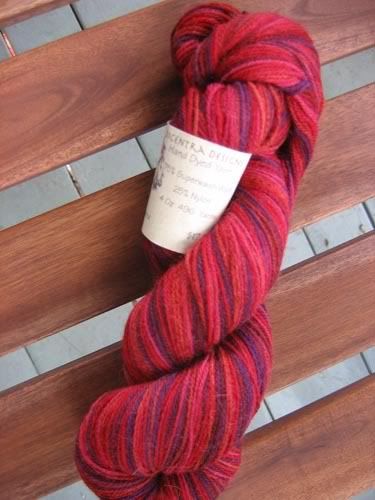 After the show, I had a meet-up with some fellow Knittyheads, but alas only Somerset (Lisa) was able to make it. She'd flown in from Toronto, and had brought some CrispyCrunch bars for Dave. Thanks again! :)
We had a good ol' Mexican snarforama at Azteca and talked of all things knitted and Canadian, and some doctory things too. She's a damn smart one, LadyLungDoc is! So here's us, in a picture that is more expensive than it looks: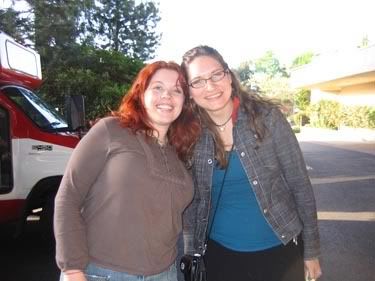 (I was so vain that I actually took off my glasses and put them on the car seat while taking the pic. You
know
what happened after that. Oh the vanity!! And please disregard the large boobage.)
See Somerset's side of the story here:
www.purlthis.blogspot.com
In other knitting news: I finished Dave's first Magic sock!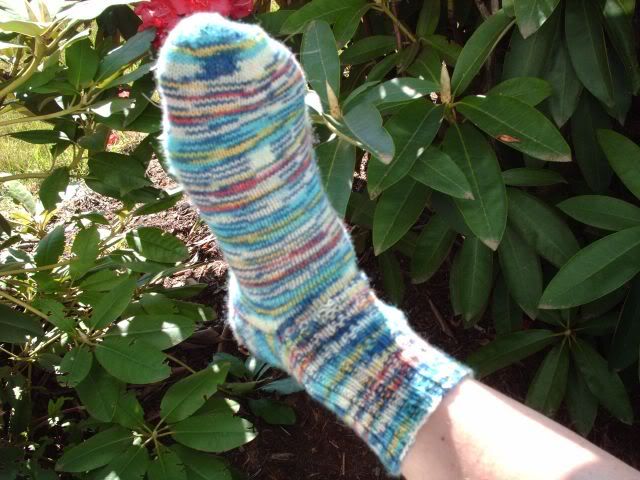 Check out the toe; it is a special Birkenstock toe that actually produces a right and a left sock. Nifty huh? You just make a few decreases on N1 and N4 first, and afer a few rows, you start decreasing on N2 and N3 as well.
So, tonight I'm going to my second SnB, this time in Federal Way with the lovely Jeanne. I'm solely going to work on The Cardigan That Can't Be Named, and I'm taking my converts Elise and Jessie with me. I'm a knitting missionary!
Speaking of missionaries: One of my next posts is all about the Mormons. Well, no, all about our trip to Salt Lake City. Maybe some Mormons. Yeah, probably Mormons. ;)
If you're still reading: Thanks! I miss you guys.... (An extra-special hug for Arja, Niek, Elke, Angelina, Evelinde, Alex, Joachim, Marloes, Anne and Sandrina. You know who y'are!)
Off to do more knitting in my little Nook: