So excited, just can 't hide it!
First of all, a big thank you for all the sweet comments from all of you for my little Milesy. I'm content to think he's had an awesome little outdoors life, even though it was only three short years.
Mingus seems to be doing alright, though a little unsettled at times, and he actually managed to PEE on my BED yesterday WHILE I WAS STILL IN IT! I can tell you I was pissed. (Pun hardly intended)
I do admit I spoil him a little now and then because I feel kinda sorry for him, also considering the giant trip ahead of us! Yes, the little red bastard is flying with me, a grueling 15 hour journey to the other side of the world. It took a day of calling United, my vet, a trip to the pet store and lots of stressing out, but I've finally decided he's going to fly in the cabin with me in a soft fabric carrier. We'll see how it goes. Though he's not allowed to be sedated, I will try to get him some happy pills anyway, just to keep me from getting skinned alive by my fellow passengers. Let's just hope it flies by! (Eek, what's with the puns today? ;)
Speaking of my travels, ahh, I'm getting both extremely excited and nervous to the point of wetting the bed myself about heading for the US again in just twelve days. Three months this time, and if all goes as planned, forever. For EVER! Damn! What an adventure.
The 29th is my last work day, and my room should be as good as empty by the 30th so it can be sublet for those three months. Would you believe I already packed a suitcase? I'd never have guessed I'd become such a well, a knitter. My suitcase is PACKED with yarn and WIPs and there's a
Knitpicks
order making its way to Dave's house as we speak. I believe they're discontinuing some of their sock yarns and
selling them at only 2,99 a hank
. This world needs more single socks, baby!
I plan on finishing the baby cardi and Dave's socks in the US, as well as a triangular shawl (Birch?) for my best friend and numéro uno private vet Angelina. And then there's the mom cardi and Dave's Dr Who scarf. Both are very close to being finished actually. Just a few last balls to be used up on the scarf, and putting the cardi together plus picking up stitches for its shawl collar. Et c'est ca!
In other news: here's the pics of the Utrecht SnB's First Anniversay I promised earlier: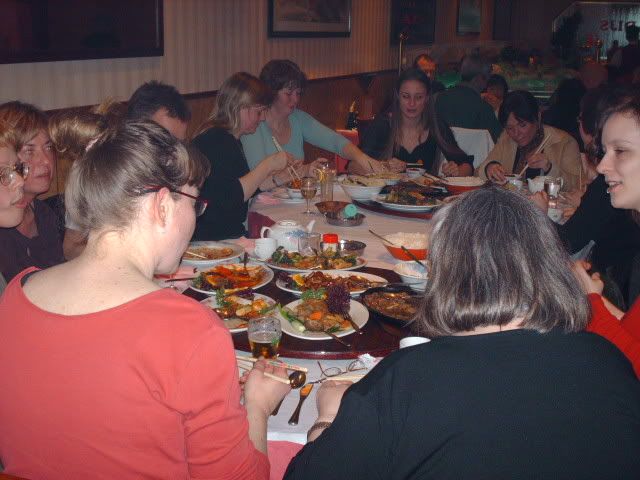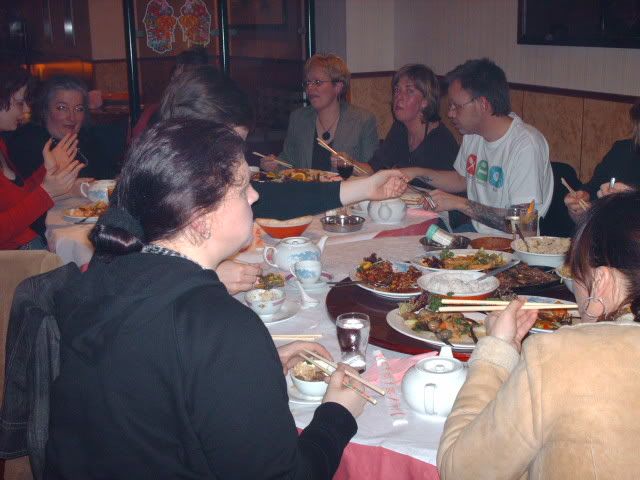 We had a great time, and look how we've grown in just one year!
Ok, back to the scarf. Easy TV knitting. I'm actually watching Not Another Teen Movie and losing IQ points by the minute. Hehehe.
Happy knitting y'all!
P.s. I bought shoes. Cowboy boots, baby! Yeeehawwww!