Purple sock finished
I just finished the sock using the merino sock yarn I got from my Secret Pal: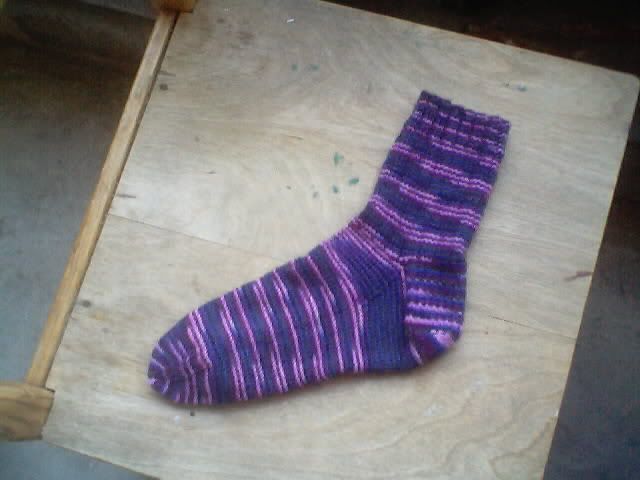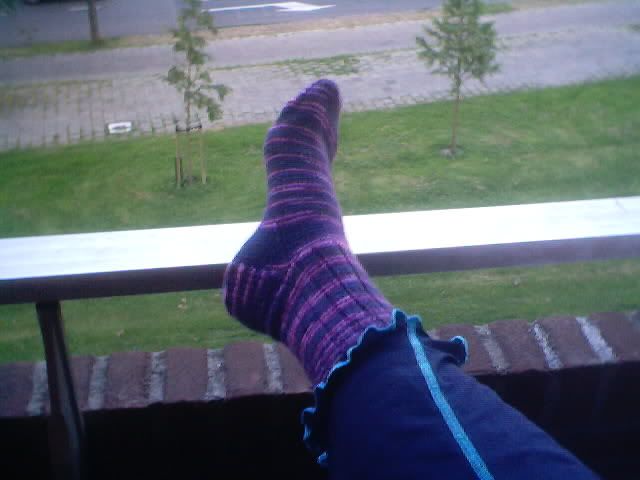 I used a 3x1 rib on the leg with a 2x2 rib for the cuff, which looks a little wonky. The next pair of ribbed socks I'll make will just be a 3x1 over the entire leg.
For the toe I used a very easy to remember
wedge toe
, which knits up easily, but doesn't look and feel as nice and comfy as the Dutch charted version that I used on the
rainbow sock
. (For all you Dutchies, Belgians, Afrikaner, you get the idea,
here's the Wolhalla sock chart
.)
Thanks for your comments, glad you're all still around! ;)
To answer Roxy's question: I'm leaving on the 19! So that's 8 days from now.
I. can't. WAIT!
On the plane I'll be knitting the twins for my first two finished socks so I'll have something nice in my hiking shoes in the States. I'm also thinking of putting Branching Out on my bamboo straights, but perhaps that'll be too difficult or will look too dangerous.
I found a link to a
government list of permitted and prohibited items
(.PDF) on the Knittyboard. I should be fine! :)