Progress report!
Sorry for the crappy pics; it was late, and the CrappyCam is flash-less.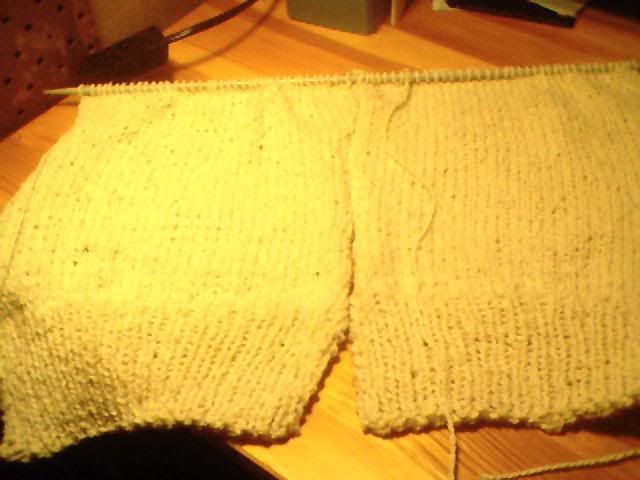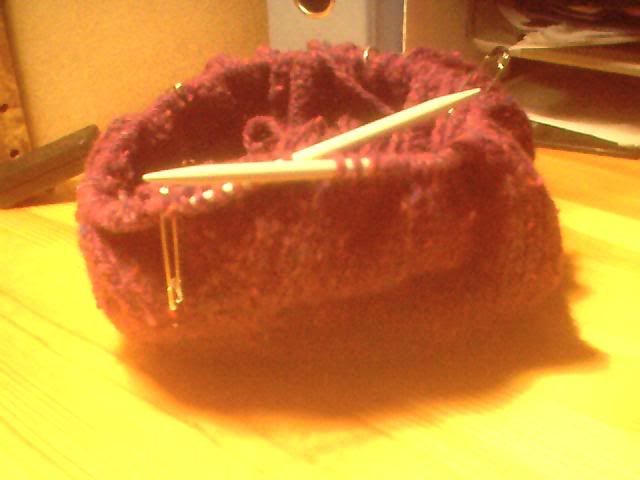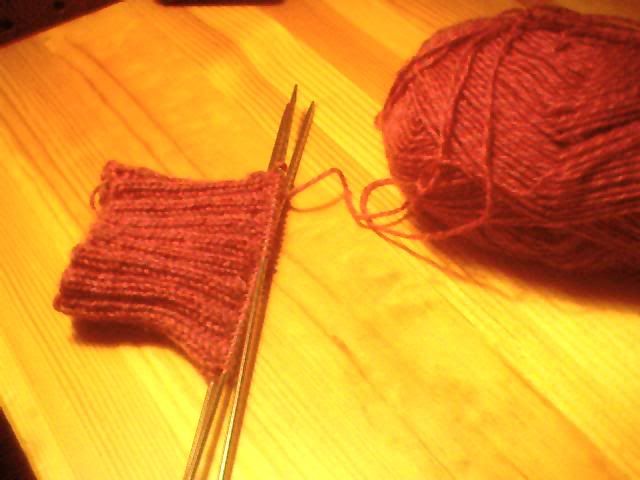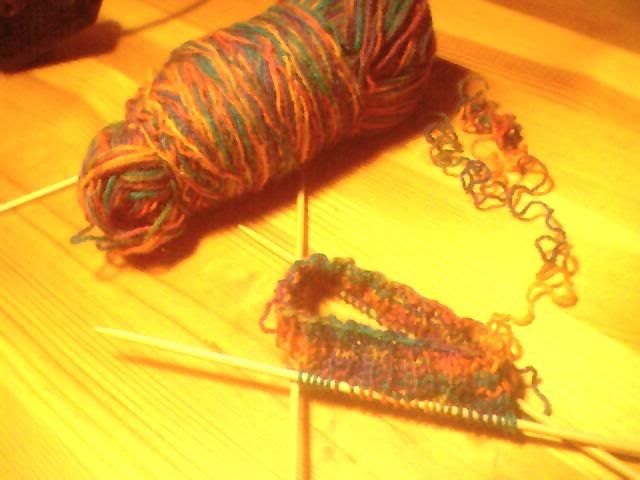 Cinnamon is going pretty well. I'm halfway through both fronts, and almost ready for the armholes. After that, it's just the sleeves and the shawl collar, and of course putting it all together. This is kinda freaking me out, but my fellow SnB'ers promised to help me sew that puppy up. ;)
I lost two stitches on one of the fronts last week, and
SnB-Carla
helped me out last Tuesday. The things I learn on those Tuesday nights!
When I couldn't continue with Cinnamon, I picked up the French Market Bag again. I'm done with the bottom now, so I have to pop by my LYS soon to pick out a colour for the body. I'm thinking of doing it in a pale blue. And in Rowan Yorkshire Tweed as well, dahhling. Hey, once a yarn snob...
The pink Regia sock yarn looks very different in real life; it's a nice pale pink.
Unfortunaly, my brand new metal Addi needle slipped right out of the stitches, and I lost a few. I seem to be losing two stitches everywhere..
For this sock, I'm planning to do a mock cable pattern that Liza showed me last Tuesday. According to her, it's pretty simple to do, just increases and decreases. It looks really fancy with this yarn. (We both bought this yarn in the same week. So why stop there, eh? ;)
The rainbow yarn however doesn't need a pattern, it's gorgeous enough as it is. I started with this one two months ago, but had cast on the amount of stitches needed for a WORSTED yarn; 44, which was way too tight for the stuff I was using. D'oh.
And I'm not giving them away to some Cinderella with cute tiny feet, nosirree. So I overcame my Fear of Frogging and ripped it and cast on 64 stitches.
Weekend's almost over; back to my needles and CSI...