Bringing you: Redheaded knitting
Ooh, didn't really do many sensible things this weekend, but I did dye my hair: (Hey, that's what weekends are for!)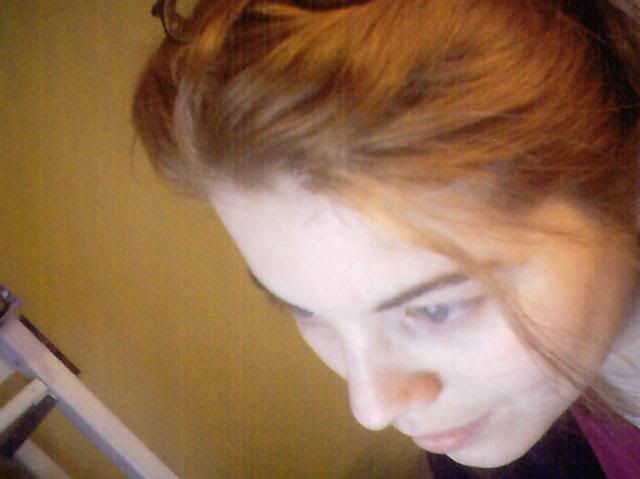 I'm very pleased with the result and it looks even better in bright daylight. I like to believe I'm a redhead at heart really, and that my follicles just never got the message.
So there, not much knitting. The weather was amazing and I actually spent some time in the front yard. It was almost 12°C/53F and I can't believe it's only two weeks ago that we made a
snow man
and were up to our knees in snow.
I did manage to poop out some rows of the Cinnamon though and I can't get over myself; it looks..., uhm, professional... Like I know what I'm doing? You have to understand this is my first actual "garment". Something that will be worn by someone other than moi. Something that NEEDS to be the right gauge.
Speaking of gauge, I'm also feeling pretty smug about getting the exact gauge described in the Summer Tweed book with my 5mms. I will post a picture of her -him? no, her- tomorrow; it's already too dark for pics now.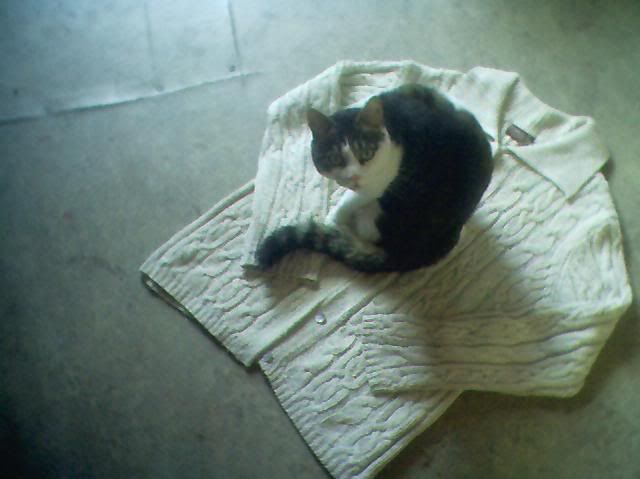 So I'll leave you with something else: an old and boxy, but 100% silk (!) H&M grandma cardi that I'm going to DESTROYYY in order to CREATE. Ain't that sweet? (And please disregard that silly critter sitting on it, will you?)