You'd love this country
Haha, there's been a small riot here in the last couple days because of this poster for a dance event in The Hague: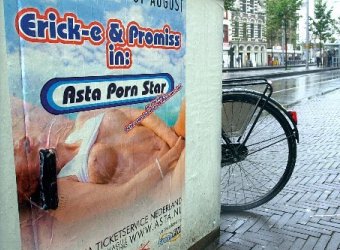 The regional youth department of one of our Christian parties, the Christian Democratic Appeal, has been covering up all posters they could find, claiming it can be shocking or hurting to some people.
D'66, or Democrats '66, a party on the left of the middle, is outraged: "Who decides what is and what is not allowed? Those kids from the CDA? They're a bunch of narrow-minded moralists."
The general opinion here seems to be: "Please, no American situations here. What's all the fuss about, anyway? They're just a pair of boobs."
P.s. D'66 is the party I normally vote for, by the way. (As do my parents.)